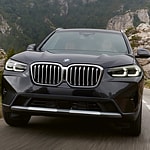 The 2023 BMW X3 offers some impressive capability features that our team at Rick Hill BMW feels you cannot ignore. The base engine for this BMW SUV is a 2.0L four-cylinder engine that yields 250 lb-ft of torque and 248 horsepower. If you are looking for performance and a sporty experience, there is an option for a turbocharged 3.0L inline-six engine that produces 369 lb-ft of torque and 382 horsepower.
The vehicle uses an eight-speed automatic transmission. The auto manufacturer claims the transmission offers smooth-shifting precision. The drivetrain is rear-wheel drive, and there is an option for all-wheel drive.
The SUV comes with an adaptive suspension called Dynamic Damper Control. There is also an adaptive M suspension that lowers the chassis as you drive at high speed to improve stability. The vehicle remains firm and well-balanced as you drive through bumpy roads and rough terrain to ensure nothing interferes with your comfort.