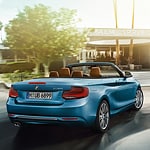 BMW came out with several models of the 2 Series to combine the best powertrain, engine performance, and handling depending on what drivers want. The 2 Series offers a turbocharged 2-liter four-cylinder that delivers 248 horsepower. It comes with an 8-speed automatic transmission, but there are manual options.
The newest design is the Gran Coupe 2 Series, which has a 2-liter turbo-four. It delivers 228 horsepower. However, the upgraded M235i Gran Coupe puts out 301 horsepower and 331 lb-ft of torque. If looking for high performance, then the M240i is perfect for a drive around Kingsport. With 335 horsepower, it's a fast trip to 60 mph. In addition, the cabins are high-tech and quiet with beautiful leather options, such as sierra tan leather and a 6.5-inch display.
However, you'll want to test drive the M2 Competition if wanting the most horsepower. The M2 Competition and convertible 2 Series are available at Rick Hill BMW.