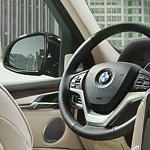 Highlights
The BMW X5 is a stylish luxury SUV that has a great set of features to offer. The X5 is equipped with high-quality materials and includes a large amount of space in its interior. For the new model year, the X5 is available in five different trim levels.
A New Special Edition
The BMW X5 is now available in a limited edition version, known as the Black Vermillion. Only 350 X5 Black Vermillion models will be developed for the American market. The Black Vermillion is painted in an elegant satin black color and wears a set of stylish black wheels. The dark black shades of this limited edition X5 are offset by red brake calipers and a red front grille.
Safety
The new BMW X5 is equipped with numerous driver assist technologies. Automated emergency braking, rear cross-traffic alert, and lane-departure warning are all standard for the X5. These features are joined by several additional options for the SUV as well.