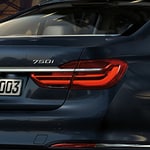 One of BMW's luxury cars is the full-size BMW 7 Series sedan. The 7 Series is a stylish car full of classy interior features and high-tech features, earning it one of the best sedans made by BMW. It's a car that will leave heads turning when you're driving or being driven around Kingsport. This sedan is also one of the best chauffeur-driven limousines you can get.
The 7 Series powerful engines options are one of the things that will make a statement as you drive. Its engine options range from a V8 six-cylinder engine that offers smooth running to a twin-turbo V12 engine that accelerates from zero to 100km/h in 4.6 seconds.
When it comes to the lavish exterior and interior features, the 7 Series at Rick Hill BMW doesn't disappoint. It comes with a spacious, comfortable cabin and offers car personalization options. This means you can get leather trims or paint finishes that you want to make the car as yours as it can be.