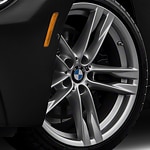 The BMWs 6 series comprises highly performing cars, all with an adeptly modified design. Having an excellent design for this vehicle makes the users proud and makes the cars perform optimally. One of the critical changes we at Rick Hill BMW noted in the 6 series is a better-looking kidney grille.
The most visible change in the kidney grille is the reduction in the number of bars. This model has 9 bars down from 10 with broader openings than previous models. Although this makes the cars look better, it also allows adequate airflow to cool the powerful engines as you cruise in Kingsport.
Besides, there is a new and sportier front apron that radiates the sports performance of this model. It also features a new positioning of the front headlights. The indicators have also been well-positioned, making this models sophisticated look sharper. In general, the front emphasizes the sports performance, solidity, and exclusive elegance of this model.