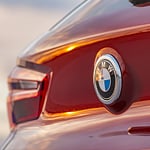 For decades BMW X series production has provided you with the best luxurious SUVs. The X series models are full of advanced technology and luxury where all are available in all-wheel drive, from the BMW X1 to BMW X7.
The X1 is a mighty small size SUV available in striking shape and uncompromising performance. In line with the X1 is the X2 model that comes in a sporty style. The X series robust definition comes about with a wide range of turbocharged 4-cylinder power train that is well-rated for its fuel economizing and adequate grant. The X3 and X4 exterior kidney grille fit an extensive bumper, which pairs with LED headlights to give the mighty appearance. X4, X5, X6, and X7 come in three-row design with expansive cargo space.
The models are available with the latest driver's amenities and assistive technology to meet customer demand. All trims are available in standard touchscreen infotainment and more security features.