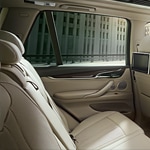 There are many high-quality automobiles that fall under the SAV category. Fortunately, BMW has produced one of the best. This automobile is known as the X5, and it has plenty of beneficial features that will enhance your drive. Cutting-edge technologies, superior handling and raw power can be expected, but there's more.
The BMW X5 has a live cockpit that's ergonomic. The driver will have easy access to operate this machine thanks to the steering wheel-mounted controls, dual touchscreen displays and more. You and your passengers can listen to music the way it was intended to be heard via the premium Bowers & Wilkins audio system. Clear highs and deep bass will create a surreal listening experience. The BMW X5 goes on to offer leather-appointed seats that possesses a quilted pattern. There's also a generous amount of cargo space.
The BMW X5 is on full display in our showroom, so take advantage of this opportunity while the offer still stands.